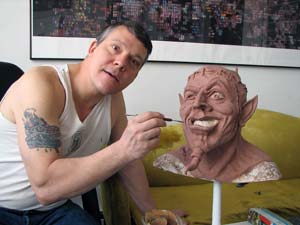 Chuck likes to describe himself as one part comic book illustrator, one part special effects designer, two parts sculptor, shaken over some science fiction novels, poured into a rubber mask, and garnished with a twisted sense of humor. In 1985 he co-founded Slave Pit Studios and formed the theatrical rock sensation GWAR. He collaborated on eight major productions, over 1,000 live performances and co-authored two feature length films with two grammy nominations and a gold record. At this time Varga performed as the Sexecutioner. His art has been described as "eye popping, twisted and over the top, way over!"
In 1995 he partnered up with Don Drakulich to form Hyperreal Productions, an art effects venture producing public sculptures and collectable figures. In 1997, Chuck moved to New York to work on Broadway and Feature Film Productions.
Presently Varga divides his time between professional work as a scenic artist and special effects designer, his own personal 'fine' artworks and infiltrating underground theater.